Two Invitations and a Great T-Shirt
September 9, 2023
Konbit Sante Invites You…
Good Things Happening in Haiti
September 17, 2023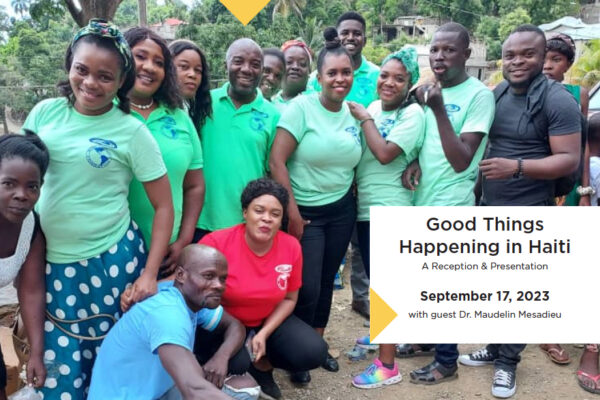 Please join us for a reception and presentation with Tezita Negussie, Konbit Sante Country Director and Interim Executive Director, who is visiting from Haiti, and guest speaker Dr. Maudelin Mesadieu, Executive Director, Unite de Lutte pour la Sante Health Center in Bande-du-Nord, Haiti Sunday, September 17, 3:00 – 5:00 p.m. Scarborough, ME
Current Events:
When History Binds Us: A Journey into the Captivating Massachusetts-Haiti Historical Ties
September 23 – October 21, 2023
This four-session virtual UMass Boston OLLI series begins September 23, 2023. Facilitator Charlot Lucien, former Konbit Sante board member and current honorary advisor, highlights the strong ties between New England's vibrant U.S. abolitionist movement and the Haitian Revolution. Out-of-state registrants are welcome.
OLLI series details
Find Charlot Lucien among our Honorary Advisors
Stand With Haiti t-shirt

You can now buy this smart T-shirt showing off your solidarity with Haiti and your support for Konbit Sante. Part of each sale benefits Konbit Sante.