Using Data to Improve Outcomes
Konbit Sante spearheaded the collection of monthly mortality reviews by the pediatric service at Justinien University Hospital (JUH), which identified primary contributors to preventable infant deaths. This led to improvements in care, including ensuring that emergency medicines were readily available, making improvements to the facilities, assuring that all deliveries are attended by a pediatric resident, and introducing CPAP (Continuous Positive Airway Pressure) for respiratory support of premature newborns. These and other initiatives resulted in a reduction of the mortality rate of moderately premature neonates in JUH's care by more than 50% over the past several years.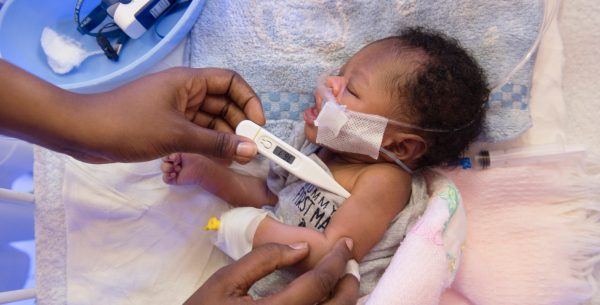 Supporting Haitian-Led Research
All too often in Haiti, Quality Improvement (QI) initiatives break down at the point of implementation. In 2018, Konbit Sante initiated a grant from PAHO (Pan American Health Organization) in partnership with the Haitian Ministry of Health's Northern Department to conduct research on what promotes or blocks the implementation of quality improvements at public healthcare facilities in Haiti. (Only 13 projects out of 240 proposals from 22 countries were accepted.) We will be looking at four case studies of QI efforts— two each at JUH and Fort Saint Michel Health Center—as part of the study, and use the results to address QI implementation issues at all of our partner facilities.