Champion for Change: Paul Toussaint
June 24, 2021
"Medicine chose me," stated Dr. Toussaint.
What started as a way to please his mother, ended up developing into a love and passion; that is his passion for healthcare. Dr. Toussaint is the attending physician in the pediatric services unit at Justinien University Hospital (JUH) and is the medical director of Haitian Baptist Convention Hospital (HCBH).
Dr. Toussaint graduated with his degree as a doctor of medicine from the State University of Haiti in 1992. Thereafter, he specialized in pediatrics. He then obtained a certificate in neonatal pediatrics from the University of the Antilles and Guyana located in Martinique. Back at home in Haiti, he settled in the North where he currently works.
He has worked at JUH for the past 20 years and spends his time observing and working with patients, meeting parents and families, supervising the activities of different staff members, and conducting administrative work. His days are often long and busy, as there is always work to be done.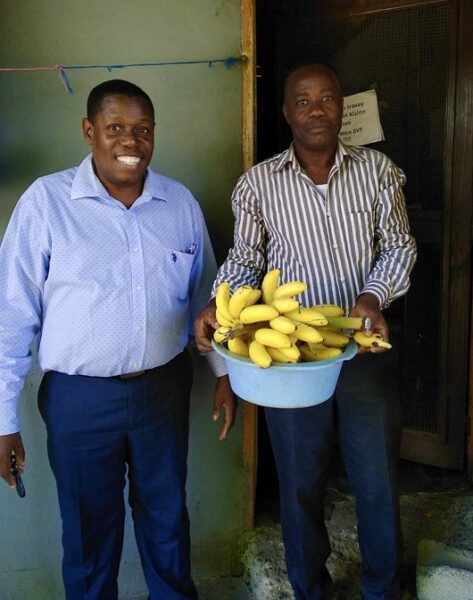 Dr. Toussaint has accomplished many amazing things during his career. Most notably he has played a vital role in the growth and development of HCBH. He wrote, "My greatest pride is being able to watch HCBH grow and know that the families of staff members lead healthy lives thanks to this hospital." The hospital employs 287 staff members and their families depend on that salary as well.
Konbit Sante has been lucky enough to be able to be a part of Dr. Toussaint's career and journey thus far. Dr. Toussaint stated, "I find encouragement in working with a methodical approach. Konbit Sante helped me to improve and made me understand that my work is appreciated and useful."
When asked why he works in Haiti, he responded, "Haiti is one of the poorest countries in the world. It is politically unstable. But it's my country. And I understand many children die because of lack of healthcare. It is the responsibility of each Haitian to work for the happiness of the country and to try to give joy and hope to the children of Haiti."
The smile and the joy on the faces of children is something Dr. Toussaint remembers always. Sometimes, when he thought he was unknown, doctors or overly grateful moms, several years later, thanked him for caring for their children. According to him, that feeling is very gratifying and encourages him to continue his work tenaciously.
He concluded as follows, "Working as a pediatrician in Haiti is choosing to be useful. Don't forget children die in this country because they are often not the first priority of decision makers. Let us KONBIT to bring hope, smile, health, and education to the children. Haiti will thus rise from the ashes to make progress."