Malnutrition in Cap-Haitien: Another Impact of Political Unrest in Port-au-Prince
August 29, 2023
Soaring inflation and a corresponding increase in the cost of staple foods have led to a rise in malnutrition, particularly among children, putting Haiti on the UN/World Food Program's list of Top 10 Countries Suffering the Most from Hunger. Care givers are disheartened over successfully treating malnourished children and adults and then having no choice but to discharge them back into the same circumstances that caused their malnutrition.
To help address these needs, Konbit Sante has imported a large quantity (the equivalent of about 100,000 meals) of fortified nutritive supplements donated by Rise Against Hunger, a U.S. NGO based in Raleigh, NC.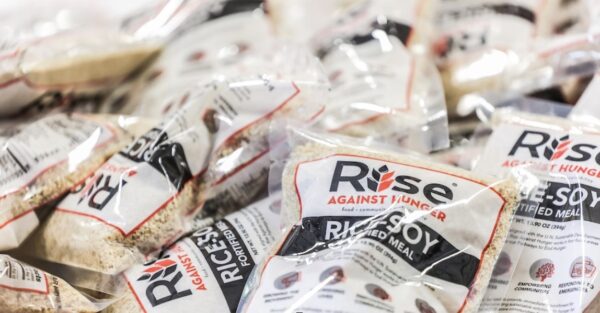 The supplements are a mix of long-grain rice, textured soy protein, a blend of dehydrated vegetables, and powdered vitamins. These are packaged in individual servings that have a shelf life of two years. The goal is not to undercut local markets but instead to get these meals to residents of Cap-Haitien who are otherwise unable to purchase their own food.
These supplements are now being distributed in Cap-Haitien by Konbit Sante partner organizations who have identified the populations most in need, developed plans for distribution, and established mechanisms for managing the stock and providing protection from rodents.
Reaching Vulnerable Populations
Several partner organizations have already received food supplements for distribution. Unite de Lutte pour la Sante (ULS) is targeting families with malnourished children, widows who lack financial resources to buy food, pregnant women, 52 traditional birth attendants who serve their communities, and ULS' community health workers.
Hopital de la Convention Baptiste D'Haiti (HCBH) is targeting the families of people who come to the clinic with malnutrition as well as community residents who are bedridden and lack access to food.
The Center for Nutrition and Education for Women and Children, a long-time friend of Konbit Sante formerly run by Sister Rosemary Frye, will distribute food packages weekly to 75 families in 11 poverty-stricken neighborhoods.
What Our Partners Tell Us
"Some of the families we serve go several days with no income or food to eat. These families will be able to feed several members of their families and share with people who live next door due to the fact that the Haitian society lives off meals that serve several households. Today one house may have food, and tomorrow another will have food, so this is a way of one helping out another. These food packages have a great impact on the family level as well as the community level."
—Andre Jean-Pierre, Director, Center for Nutrition and Education for Women and Children
"According to WFP (World Food Program), a total of 4.9 million Haitians – nearly half the population – do not have enough to eat, and 1.8 million are facing emergency levels of food insecurity. The supplements received recently from Konbit Sante were a blessing for our matrons (traditional birth attendants) and the parents and kids at our malnutrition program. ULS communities are very thankful to you, for supporting them through this food."
—Dr. Maudelin Mesadieu, Director of Unite de Lutte pour la Sante